November 2020 Meeting Report
-
The meeting was once again held at the Melville Woodturners Hall in Kardinya and considering the blustery weather our members filled the hall to capacity.
Carolyn welcomed everyone and made the request that someone volunteer to look after the tea and coffee for the meetings, this is not an arduous task, but we do need someone to fill this position. If you feel that this is something you could manage it would be a tremendous help and avoid us all missing out on our cuppa!
It was amazing the variety of topics the speakers discussed and items they had brought to show us.
Kevin Luff – Diamond plates, contour sanders and effective hold down techniques
Kevin talked about his source for diamond sharpening plates and had brought along his 400 & 1000 grit Vista diamond plates, that he had been using for some time and were still in good condition. Find them on AliExpress sold by MYVIT store.
He also showed us that Contoured Sanding pads were a useful addition to anyone's toolbox for getting into hard to reach corners or that unusual shape you have just created. Again, available from AliExpress sold by AR21 store.
Kevin then showed us an effective method of holding down items you were working on, using masking tape and super glue, this proved to be highly effective and completely reversible whether it was a project just started or completely finished.
Shawn Ritchie – Pressure casting
Shawn had brought along his 10ltr paint system to show us how it had been adapted to provide an effective pressure pot, used to improve the quality of the resin casting he was using.
This had been obtained from one of the automotive suppliers whilst on special and together with a selection of moulds and conduit produced a variety of blanks suitable for turning into pens in amazing colours or mixtures of burl and resin.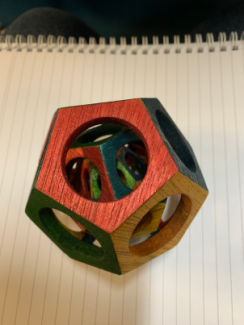 Peter Banks – Dodecahedron toys
Peter explained about the different shapes involved in this geometry and detailed how he had made jigs to maintain the accurate shape and angles required to produce this 12-sided toy. 
It involved constructing 3 of them, each enclosed within the next, and were then finished with alcohol and food-based colours and wipe on poly to produce the finished product. His description confirmed that this is one of the strongest shapes it is possible to build.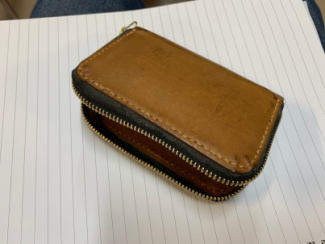 Mark Ellis – Leather work
Mark described his journey of discovery into the world of leather work, finding that a lot of the tools used were the same ones we used as woodworkers. This included Japanese marking knives and small part vices. Showing us that the use of kangaroo leather, zip and stitching had produced a remarkable purse which everyone thought was excellent for a first effort.
Robert Rankin – Hammers
Now Robert has not stood up and done a presentation before, so we were all pleased that he told us about how he wanted to try something different and started making his own hammer for woodworking.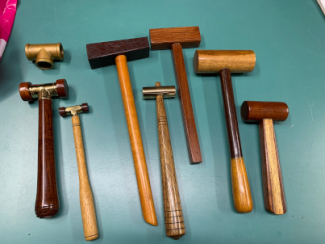 He showed us his first attempt and whilst more than acceptable he felt it could be improved. A variety of designs followed using different materials and techniques which is still evolving today.
What was evident from our members admiration was that during his journey of discovery and improving his skills he has produced a fine collection of hammers that everyone wanted.
Any members wanting more information on the items discussed should contact those members directly as I am sure they would welcome a chat.
Laying Geoff Ryan to rest
Carolyn confirmed that a few of the members had joined Stephanie for the scattering of Geoff's ashes at Inglehope Arboretum. She said it was beautiful ceremony at the base of a Sequoia redwood and that the bench Geoff had made was there. He will be remembered as generous with his time and the conversations that we all enjoyed. All our thoughts are with Stephanie at this time.