April 2022 Meeting Report
-
This meeting was set up with three benches and a particular type of hinge or a hinge "issue" being discussed/demonstrated by an expert while the rest of the members in small groups rotated to each table.
The demos were therefore repeated twice so that all members got to see each hinge issue. It was an excellent format that worked very well.
Paul Birchall
Paul discussed BUTT HINGES, pointing out his particular technique for setting these common hinges correctly. It was fascinating to learn about the care required to properly fit these hinges.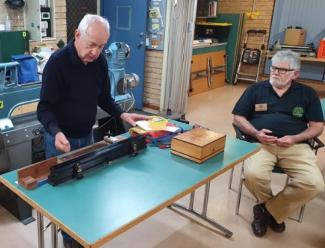 With the aid of a box, he had built some time ago, Paul demonstrated a simple test designed to check the fit, namely that the lid sits evenly on the box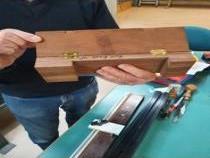 sides. Tapping each corner on the side opposite the hinges gives an audible "click" if the lid is not fully seated and can indicated incorrect installation of the hinges. (A very neat test that a few members gleefully applied to some of the boxes on display, hoping to hear the tell-tale click 😊)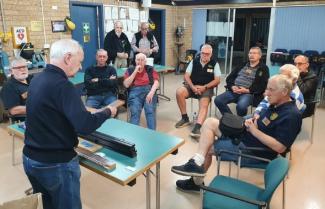 Paul then went through a detailed procedure involving a jig and router, following careful setting out based on the dimensions of each hinge, because they can be different. He labels each one with an appropriate mark ("left," and "right") to ensure that they do not get mixed up. Paul's technique involves essentially an incremental approach to cutting the rebate for each hinge, using a threaded stop on his jig which is rotated a known amount to "sneak up" carefully until an exact fit of the hinge is achieved.
Who knew how precisely this work needs to be done to get a box lid to fit perfectly?
Peter Hall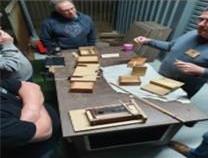 Peter discussed WOODEN HINGES, including the jig he had made to prepare precisely sized dowels using the same material as the box sides. The objective is to have the wooden hinge that is not obvious until the box is opened. Only then are the hinge location and details revealed.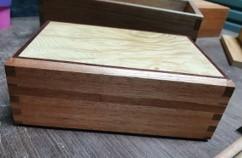 Peter's display included a range of hinges from some of his earliest attempts to achieve an "invisible" hinge through to some exquisite examples where he had incorporated wooden hinges into some classy boxes.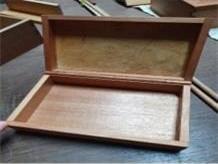 Peter has very rapidly climbed the learning curve and he fielded a range of questions from members who were clearly impressed with this approach to hinges on boxes.
Kevin Luff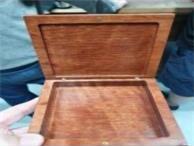 Kevin talked about BARREL and BRASS PIN hinges, typically used on smaller boxes. Kevin's commercial projects often include a run of large numbers of boxes for such items as medallions or small presentation items, cut in multiples on a CNC router.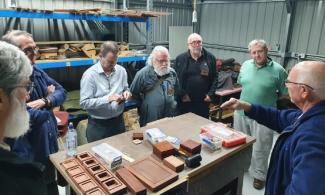 By cutting multiple boxes and lids from the same piece of timber, grain matching can be achieved, and the CNC program can include for precise hole locations for barrel hinges, pins and latch magnets.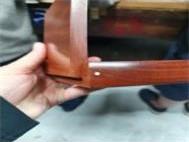 Kevin presented an interesting view of fine woodwork where speed and precision are key to a successful commission.