Design and Construction of three OOTW exhibits
-
Following on from last month, we were talking to those people who had either won a place at our "Out of the Woods" competition or whose furniture created exceptional interest.
Danish Inspired Desk
Our first presenter was Trina Storm who told us about the design and construction of her Danish inspired desk, which won second prize in the furniture category.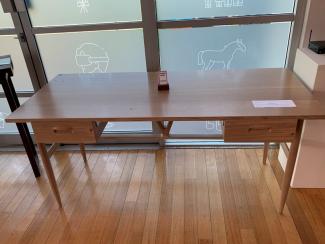 When you think about desks, you always imagine something the size of an aircraft carrier, in dark mahogany with an inlaid leather top, so to establish a design that is both light and practical is always a challenge.
To establish a lightweight construction brings its own problems, such as the small sections of timbers involved and the illusion of the two "floating" drawers.
These were suspended on brass hangers and together with the runners, which had to be specially fabricated from brass to suit the requirements.
Trina already had a piece of Oak that formed the "V" for the centre piece and the draw pulls, with the rest made from French Oak.
The desk was finished in two coats of Evolution oil with a satin finish.
The overall impression was of a beautifully made and minimalistic desk.
Winning Wine Rack
Barry Viner had brought along his wine rack that had won third prize in the miscellaneous category.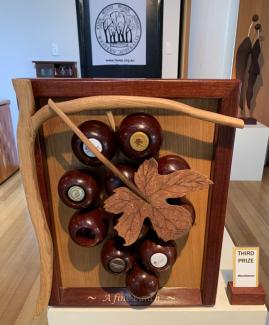 The original concept had been for our members wine rack competition, and the mixture of Jarrah turned grapes in the Oak background was inspired by the Southwest vineyards.
Constructed using a sliding dovetail joint to hold both sections together, it was finished off with a leaf made from three layers of veneer, with the veins made from "Titebond" glue and Jarrah dust, then the leaf was steam bent to make it more realistic.
This was finished with gloss Evolution oil with the exception of the vine.
We then had a short break for tea and coffee and a look at the free magazines that Martin had brought in.
Onslow Drinks Cabinet
Cat Cook then told us about her "Onslow Cabinet", which was inspired by the town in the Northwest, and was the standout at our exhibition, with everyone wanting to know how it had been made.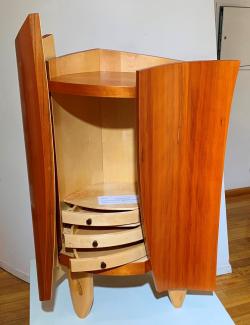 With no straight edges anywhere, the concept had evolved from attending Michael Fortune and Kelly Parker's course at the Centre for Fine Woodworking in Nelson NZ, (together with Carolyn and Peter Bell) This had required many design drawings and lots of special jigs, and every single piece considered and thought through, due to the complex shapes involved.
Construction involved torsion hollow core, bendy ply, veneer and even pivoting drawers.
It was made using Rock Maple and Silver Beech and finished with wipe-on-poly.
This all came together to make an outstanding and unique piece of furniture that everyone admired, whilst it was on display at the "Out of the Woods" exhibition.
Cat mentioned that there would be another woodworking course in the new year.
Information can be found here: https://www.cfw.co.nz/residency
Australian Wood Review did write an article about the course she attended which you might like to look at.
https://www.woodreview.com.au/profiles/an-open-studio-residency-with-michael-fortune
Martin then gave us an update on the advent calendars that he and Len have been building, and they are looking closer to being finished with all the decorations and even LED lights.