July 2022 General Meeting - Steam Bending and Laminating Report
-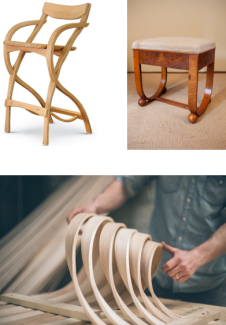 Tonight's talk was by Jeff Kenny about his explorations into the world of steam bending. He spoke about the many uses of curved timber and showed us some examples.
He had found information from various sources about the most suitable timber, and what worked best, but then realised that everyone was using whatever timber they had available locally.
Kevin had helped with the first moulds in MDF, and Jeff had developed them from then onwards, this included finding that a metal strap was essential, and it had to have fixed stops to hold the timber firmly in place. From the members discussions it would seem something like 1-1.2mm thick was best.
All the members that had tried steam bending added to the discussion regarding what sort of steam box they had used, and what form of heating worked best.

Jeff had originally tried bending some Sheoak that he had available which had failed quite early and then had better success with European Beech which worked fine but was expensive.
We all learned that you should allow your timber to be in the steam box at least 1hr for every 1" of thickness and that you must allow for "spring back" as it will always occur.
I have listed a few of the sites you might find interesting with thanks to Jeff, Steve Harris and Peter Bell.
10 reasons why steam bending fails: https://www.youtube.com/watch?v=1pPKUgpn0CI
An article by Michael Fortune: https://www.popularwoodworking.com/article/three-legged-occasional-table/
Australian wood review: https://www.woodreview.com.au/news/bending-wood-the-technicalities
Steam Benders Australia:
https://steambenders.com.au/timber-bending-australia-steam-bending-and-laminate-bending/
Lee Valley booklet: https://assets.leevalley.com/Original/10105/31161-steam-bending-instruction-booklet-c-01-e.pdf
Ian Houghton then told us about his experience using bent laminating. His last project that involved bending had started with 7-8 boards of 6mm thick Jarrah to give him a finished thickness of 45mm. He always cut at least one more board than he needed and said that he had steam bent the timber first, fitted it to his form and then left for a week to dry.

When laminating he liberally spreads the epoxy adhesive on both sides of each board and found that a consistency of honey worked best.
Different members had used the "West System" epoxy with success. Always cover your "former" with cling film as once the clamps are applied the epoxy will go everywhere.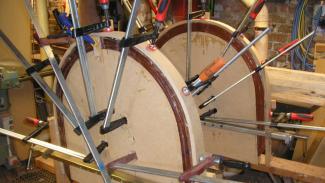 If constructing tight curves using Jarrah, do not go thicker than 2mm.
He had used this process in building his "Gum Leaf" table which was made from Sheoak and used tapered Jarrah to form the vein in the centre.
If anyone was interested in giving this type of construction a go, please talk to Ian as he has a steam box available and plenty of written material.
It was an interesting evening that involved many of the members contributing their experiences and some interesting discussions about what will and will not work.