March 2022 Meeting Report
-
Allan Welcomed everyone and offered apologies for Carolyn who had been restricted at home and for Harry who is away at present.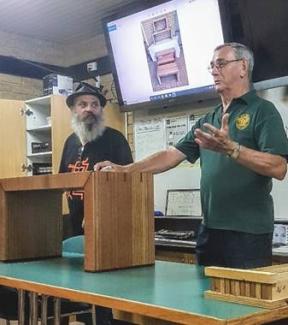 He then introduced Laurie and Mark Pearson who had been making a variety of outdoor furniture from what they described as offcuts of plywood.
Not your first choice of material for long turn use outside, but as they explained the systems, they used to produce both the table and the benches, you start to see how well the plywood lends itself to some of their different techniques.
They explained the issues they had to overcome by making various jigs and in the construction of several benches and a couple of great looking chairs. Several questions were asked about specific details.
Following the tea break and drawing of the raffle x 3, Martin engaged the group, firstly, at the request of Tad Yamamoto showing the Japanese writer's equipment box named "Jupiter" which he had made as a thank you for Tad.
Martin then handed around a few samples of marquetry by way of a little promotion of his marquetry course to be held in Dwellingup next month.
He then went on to discuss a collection of the various tools and equipment he uses for finishing, particularly his beautiful Japanese boxes. He explained his techniques for handling, decanting, screening, and storing left over polyurethane to ensure that the quality is maintained between projects. He emphasised the methods he has adopted to keep his seven-year-old Japanese brush in such good condition, free of dust and other contaminants.
His use of screw-top food bags, or the commercially available Stoploss Bags that very effectively keep air away from unused finishes, is central to his preservation of unused polyurethane in particular. Polyurethane is the finish he uses exclusively on his boxes.
Many thanks to Laurie and Mark for giving us an insight on how we could all make something different for the back veranda.
And thanks to Martin for showing what we must do to achieve the best possible finish on our projects.