Watch Box OOTW Winner Peter Pauls
-
October 2022 Meeting Report
Our October meeting was all about who won what, at the "Out of the Woods" competition.
Watch Box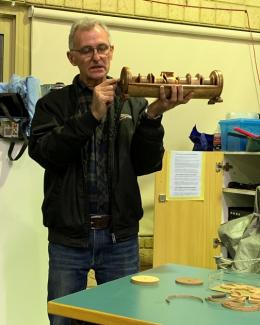 Peter Pauls took first prize in the box category with his magnificent "Watch Box"
So, tonight he told us about how the design had evolved due to the space restrictions required by his client.
Peter's boxes are always something out of left field, and usually involve a few engineering challenges that must be solved before he can move on to the following steps.
The structure was made from layers of 0.6mm veneer and two pack resin adhesive, over a cardboard tube with both the inner and outer sections being built together using layers of wax paper as spacers.
Having turned the end plates, Paul showed us how he had formed the veneer strips to cover the end grain on both pieces, using hot water and the paper tube again.
Then, setting out and carving both end caps proved to be a challenge and that once they were sprayed with lacquer, this tended to hide the fine detail, so this then had the be removed and recoated using Livos Oil to maintain the definition of his carving.
From there onto making and fixing the feet, which is never easy on curved structures, and once these had been carved, Paul produced a method of fixing that involved a small brass plate, screwed onto the end sections then jointed into both feet.
Next, he had to shape and carve the handles which, together with a central spine, help to keep the box construction stable.
All this work was carried out in such a way that it can always be disassembled at a later stage if required.
He then turned the actual watch holders from timber pallets, having to modify the design on the way, due to how watch straps are opened and make allowance to allow for the winders.
Once again Paul has brought us a box that is unique and involves a level of sophistication in the way it opens and displays its contents, which sends us all away amazed at the way he brings his original ideas together to make such a fine piece of woodwork.
Advent Calendar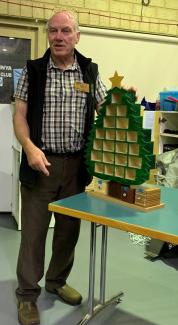 After which, Martin once again entertained us with a story about how he and Len Starkie had been on a journey of discovery together to make an Advent Calendar.
Whilst not a difficult challenge, it soon became a major construction project, when the one needed quickly turned into an order for six! All of which needed 24 drawers.  
This quickly became a design that needed Len's expertise with his CNC machine and using the laser engraver.
Martin also included some independent boxes to make up the number required, using the engineered veneers we had acquired earlier this year, and said they were excellent and worked well.
He also reminded us that he uses a lot of earrings as drawer pulls, and for this project, they were available with all sorts of Christmas decorations.
Now all they need do, is get them completed and posted to arrive before 1st December!