Book Matched Veneer Workshop
-
On Saturday FWWA ran another of our four-way book matched veneer workshops at Ian Houghton's in Mount Lawley.
He had another six participants who all learned how they should select the best veneers, mark each sheet, how burl veneer tends curl, and how to flatten them using a recipe of glycerine and methylated spirits.
How and why, you need to "fettle" a new veneer saw to get the best result, then practice using them, together with the best ways to get a square edge on your veneer.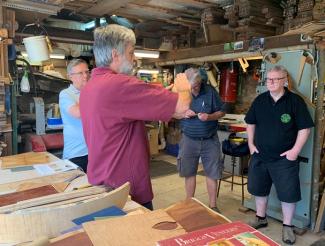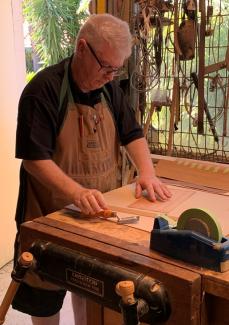 They all found out how to consistently cut stringing to the same width together with the different uses of masking and veneer tape.
We stopped for a chat and a bit of lunch, and then moved on to what sort of sub-base you should use and why, the benefits of fitting solid edges to doors and tops.
Ian showed us some practical examples and the benefits of this style of construction, on the beautiful furniture he has around his home and that is stored in his workshop.
He talked about the results you can expect with the different types of glues, and which will give you consistent results.
Ian also recommended a book that you should consider for more background and to develop different techniques.
Everyone then glued their work together with veneer on the reverse side and it was placed into the Vacuum bag and sealed.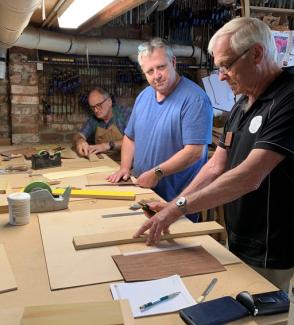 I am sure all the participants would join me in thanking Ian and Raylene for their hospitality and providing an insight on how anyone with a bit of practice can produce perfectly matched veneer.
Once again, we had six members take home their very own book matched top to be included in their next box.