-
On a cold wet day in May we had been invited to visit Ebonisto's Cabinet works in Myaree, and something like 26 of our members braved the rain to have a look and see what they made.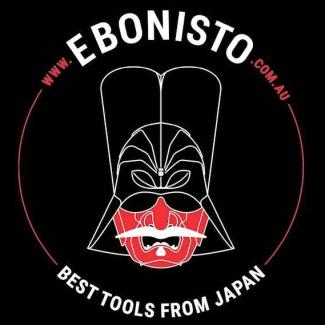 Rajeev welcomed us to his workshop and was quickly showing us around and explaining all about the projects that we could see about us.
A couple of the jobs he was working on were a beautiful carved alter with stained glass inserts for the catholic church and a timber handrail required for an aged care facility.
This timber handrail and the fact that the 90-degree bends which were also timber, inspired many questions on how it was made, Rajeev described the process including the use of the CNC machine and then routing to round off all the edges and finally cutting into four individual sections.
A lot of work just so you can provide a consistent look and finish.
We all managed to get a tea or coffee break with many thanks to Peter.
Rajeev then started to demonstrate the selection of Japanese tools that were available through Ebonisto's.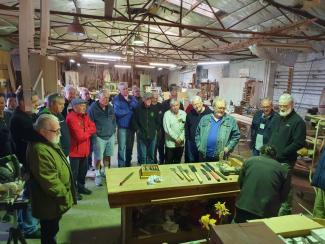 His range of tools was comprehensive with over nine different saws, Shinto saw rasps, drilling stands and of course none of us could go past his bamboo drills!
We all played with the different saws and anything else we were interested in, but I think everyone came away with some new tool to take home.
You can see more of his work and tools for sale on his website here: https://www.ebonisto.com.au/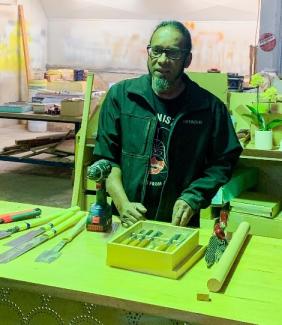 Many thanks to Rajeev for taking the time on Saturday and making us welcome in his workshop.
Now that we know where he is located, I can see us all heading back when we need a new saw, or another bamboo drill.