-
Many thanks to Mark Pearson for organising our visit to the ForestOne warehouse in Welshpool.
We arrived in time for a brief induction and started his presentation at 9.00am. 
Mark explained how plywood is graded and gave us an insight into the relevant Australian standard which became much clearer, when samples showing the different grades were pass around.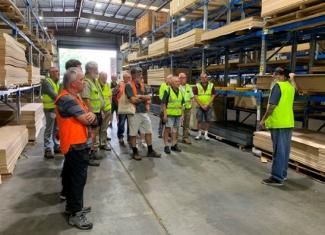 This then gets more specific when you can see the difference in the timbers, from which the plywood is constructed, depending on whether you wanted construction grade ply or something with a very fine finish.
Mark then took us on a guided tour, stopping at each bay to tell us what we were looking at and what it would be used for, it did not take us very long to realise just how many different combinations you could have and what vast range that ForestOne carried in stock.
By this time, we had moved into bays holding MDF, hardboard, Weathertex and a whole range of pre-finished boards.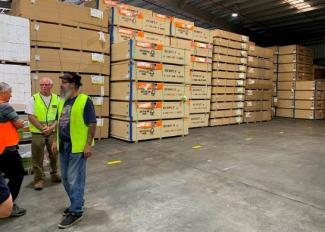 When we were looking at their bulk storage of packs that had arrived direct from the port, Mark explained that in our current market, having systems in place to be able to identify each sheet that was supplied, with its provenance and chain of custody was essential, together with its MDR and prove its environmentally sustainable.
It would not matter what your project was, I am sure that ForestOne would have a plywood that would fit the bill!
We enjoyed morning tea whilst Mark answered more questions that our members had thought of during the tour.
Once again Mark, thank you and ForestOne for a very entertaining morning.