-
We were invited by Dane from Timbecon, to visit their showroom and inspect all the latest items added to their range of machinery, but to talk about the various fixtures and fittings that will help us build better jigs and give our projects consistent results.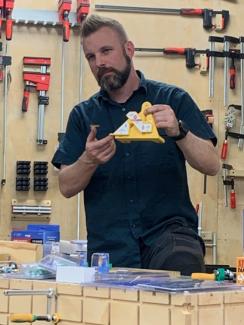 Dane started his presentation by demonstrating the new hand sander and dust extractor from "Mirka"  which used either the mesh disks, or the new sanding disks, which would self-generate its sanding surface as it wore down.
He talked about the traditional "T" track systems and then showed us the new "micro jig" system using the dovetail profile with its rounded corners to attach its hardware, a variety of hold down clamps, and jigs of all shapes and sizes including their starter kit.
He said we should check out their web site and YouTube for inspiration and more project ideas.
I was especially interested in his zero tolerance mitre bars as they have been a source of frustration for a while, and to be able to instal them from the top would save all that time adjusting it and trying again. That was added straight to my birthday list!
Dane showed us their new "lock mitre bit" and new Micro jig required to fit it perfectly, new low profile brass knobs, hold down feet for toggle clamps and new "slip" tape to stop things binding.
He said that we should check out their new range of drill presses, look at the new sanding disk range, and that they had new RZ filtration face masks available, which we were sure to find much more comfortable to wear.
We seemed to have covered a huge range of products, and of course spent time checking out the latest machinery that was on display.
Following a short break for tea and coffee, we all got time to talk to Dane and handle the various jigs he had spoken about, together with collecting all the bits and pieces on our shopping lists.
Once again, we would like to thank Dane and Colin for making us very welcome and I am sure we all came away with a wealth of ideas that are essential to building our next project.