July 2021 General Meeting - Making Custom Gun Stocks
-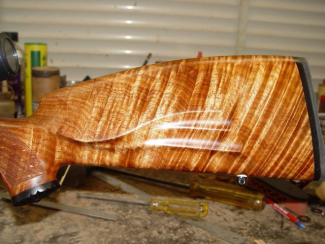 Fine wood working takes many forms and at this meeting we will be learning about a form that is not normally covered by our members - Gun Stock making. 
Ken Davis is a master Stockmaker and Telescopic Sight Repairer. He makes and restores gun stocks for exhibition, competition, and for sporting competitions, as well as restoring historical pieces. Ken will be speaking about some of his projects, and will cover the tools and processes he uses.
This is an unusual topic for the Association, but should provide some interesting insights for those who like to make pieces with curved parts.
About the Venue
Melville Wood Turners hall is in the Kardinya Community Centre, Morris Buzzacott Reserve, Cnr Prescott Drive and Williamson Rd, Kardinya WA 6163
Would anyone arriving early help prepare the venue for the meeting. This will mostly involve setting out chairs but there may be other work that is required. Your assistance is most appreciated and will allow the meeting to start on time.
The venue has its own chairs so that we do not need to bring our own.
Health and Safety
Members and visitors are reminded that the venue for our meeting is a workshop and care should be taken in this environment.  The venue has been picked to ensure there is more than sufficient space for everyone to attend and still comply with the current social distancing requirements.
We all have a part to play in keeping ourselves and our community safe and free from COVID-19, it is a reminder that we must keep up the physical distancing, wash our hands with soap and water or sanitizer, and stay home if at all unwell.